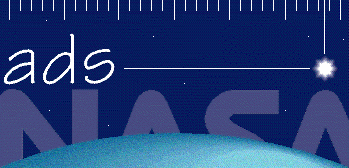 ADS Abstract Service
The Astrophysics Data System (ADS) provides a number of FREE World Wide Web data services. At present the main emphasis is on the Abstract Service, which includes four sets of abstracts:

1) Astronomy and Astrophysics
2) Space Instrumentation
3) Physics and Geophysics
4) LANL Preprints


and on the Article Service, which provides access to the full articles for all major and many smaller astronomy journals.

Each dataset contains abstracts from hundreds of journals, publications, colloquia, symposia, proceedings, PhD Theses, and internal NASA reports. All abstracts can be searched by author, object name (astrophysics only), title, or abstract text words.
IAU Circulars: Recently included in the Astronomy and Astrophysics database are all IAU Circulars. The Circulars are indexed into the database, with the full text available to individual subscribers.
Urania Collaboration: The ADS is an integral part of a world-wide collaboration among astronomy journals and data centers called URANIA (Universal Research Archive of Networked Information in Astronomy). Together with the AAS, the ApJ, and other organizations, we comprise a fully functional distributed digital library of astronomical information.
Mirror Sites: We now have mirror sites for the Abstract Service at NAO in Tokyo, Japan and at CDS in Strasbourg, France. In addition, we provide the ability to select from which mirror site to retrieve the full articles, SIMBAD object look-ups, the electronic ApJ, and the preprints.
ADS Home Page
https://adsabs.harvard.edu/
https://cdsads.u-strasbg.fr/
https://ads.nao.ac.jp/